---
The Watcher
(2022-Ongoing)



I designed a symbol in 2021 called The Watcher. Ever since, I have used The Watcher in my art countless times in hopes of learning more about the symbol itself and why I designed it in the first place.

While designing The Watcher, I was looking to encapsulate the sense of spirituality found in symbols like the Hamsa. Ultimately, everyone desires to be seen and feel protected, as if something or someone is watching over them.

Through my practice of incorporating The Watcher into my art, I realized this iconography is meant to be the complete opposite of hate symbols; I want everyone who comes across a Watcher--whether in my art, in public, or even in another artist's work--to feel a sense of belonging and security, rather than the fear many face from other symbols. I am very grateful that people are recognizing and relating to this message.

Selected Watcher Paintings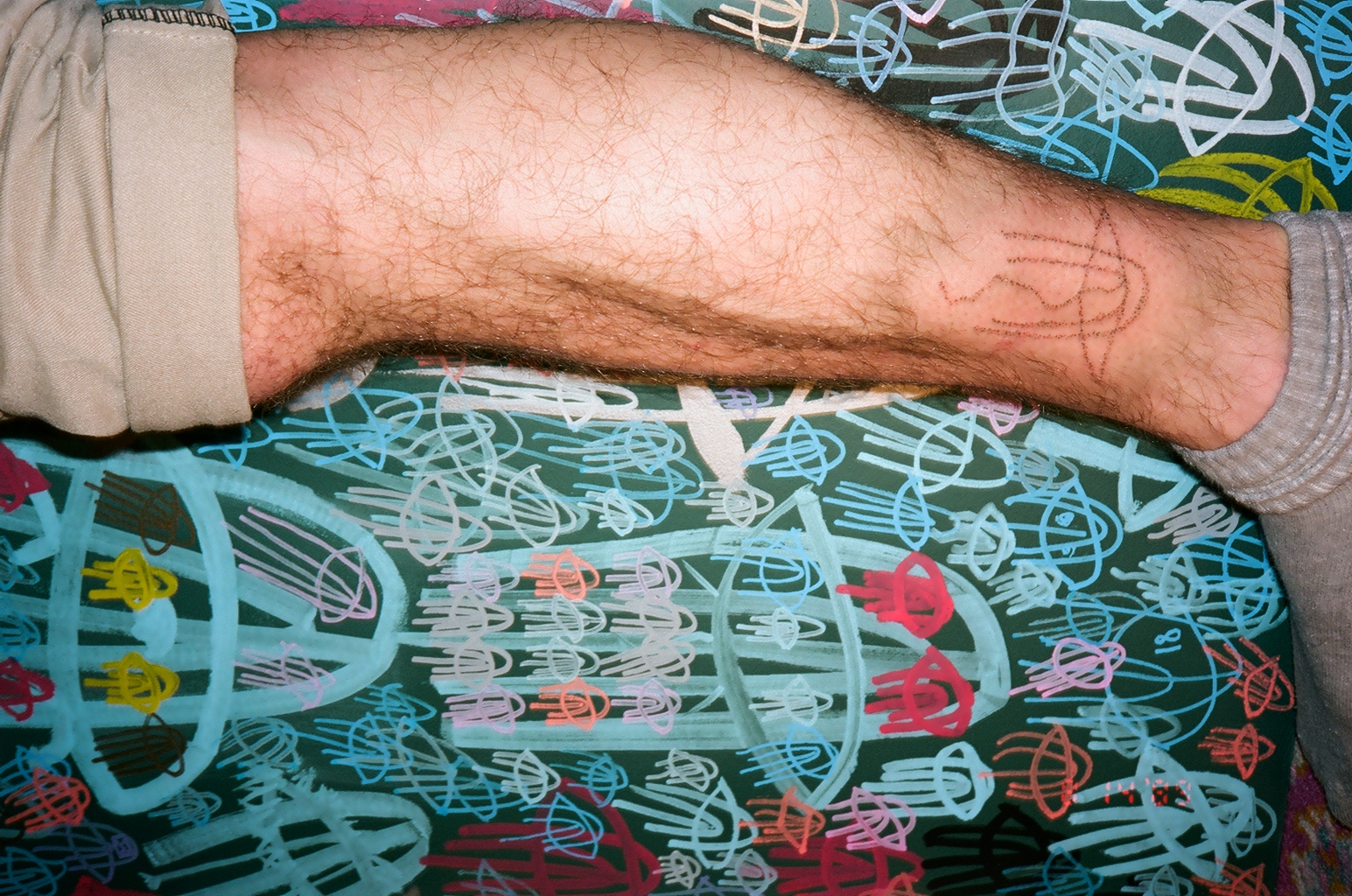 ---
Feedback Loops
(2022-Ongoing)



Series of physical paintings inspired by AI-created reference images.
The first in the series -- We're All Adults Here -- was directly inspired by an AI reference, while each subsequent reference was created by digitally collaging AI variations of the previous physical painting.
Through each subsequent Feedback Loop, the narrative and style of the series evolves and unravels via an exchange between artist and code. Each Feedback Loop is both spontaneous yet deliberate, intentional yet unplanned.
Acrylic, AI, Art, For Sale, NFT, Painting, Watcher
We're All Adults Here
(20x20")
SOLD, 3 ETH ($5,175)
Pack Your Romantic Mind
(20x20")
FOR SALE, 2 ETH
Our Realty Is Blue
(20x20")
FOR SALE, 2 ETH
Don't Waste My Time
(20x20")
FOR SALE
Inquire for 1/1 NFT
Life After Loss
(36x36")
FOR SALE
Inquire for 1/1 NFT
Play In Between
(36x36")
Inquire for 1/1 NFT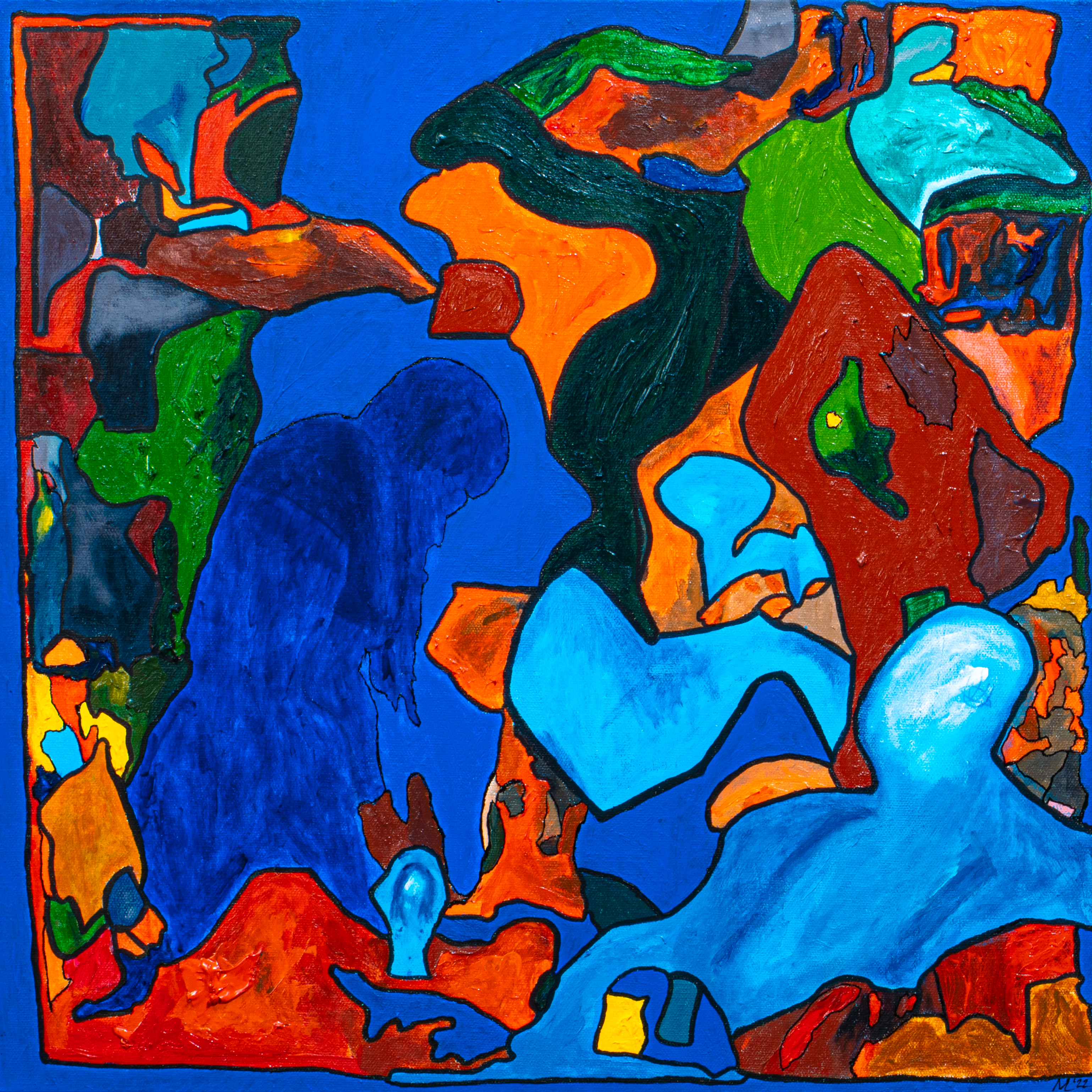 ---
The Watcher - Painting Series
(2022-Ongoing)



I began on a Watcher series in the summer of 2022 while visiting Baltimore. The first piece was "existential comfort," and then "loud places" shortly thereafter. The series--which is very much still in progress--is loose, with few rules or parameters, other than that I make fun drawings including lots of Watchers. I am intentionally trying new mediums, colors, forms, patterns, and so on to continue pushing into new territory.

I have incorporated this symbol in repetitive works--like the ones for sale here--and in other styles, including abstract works and portraits. The ongoing series of Watcher-centric works are predominantely abstract and repetitive. Most of pieces are small scale and feature Watchers that vary in color, size, orientation.

I made many of these 2022 artworks both in my studio in Brooklyn and on the road while visiting in Baltimore, Chicago, the UK, and even often in nature. At the point in which this series took shape, I had been iterating on the Watcher for almost one year. Now almost a whole year later, I am still experimenting with new means of watching.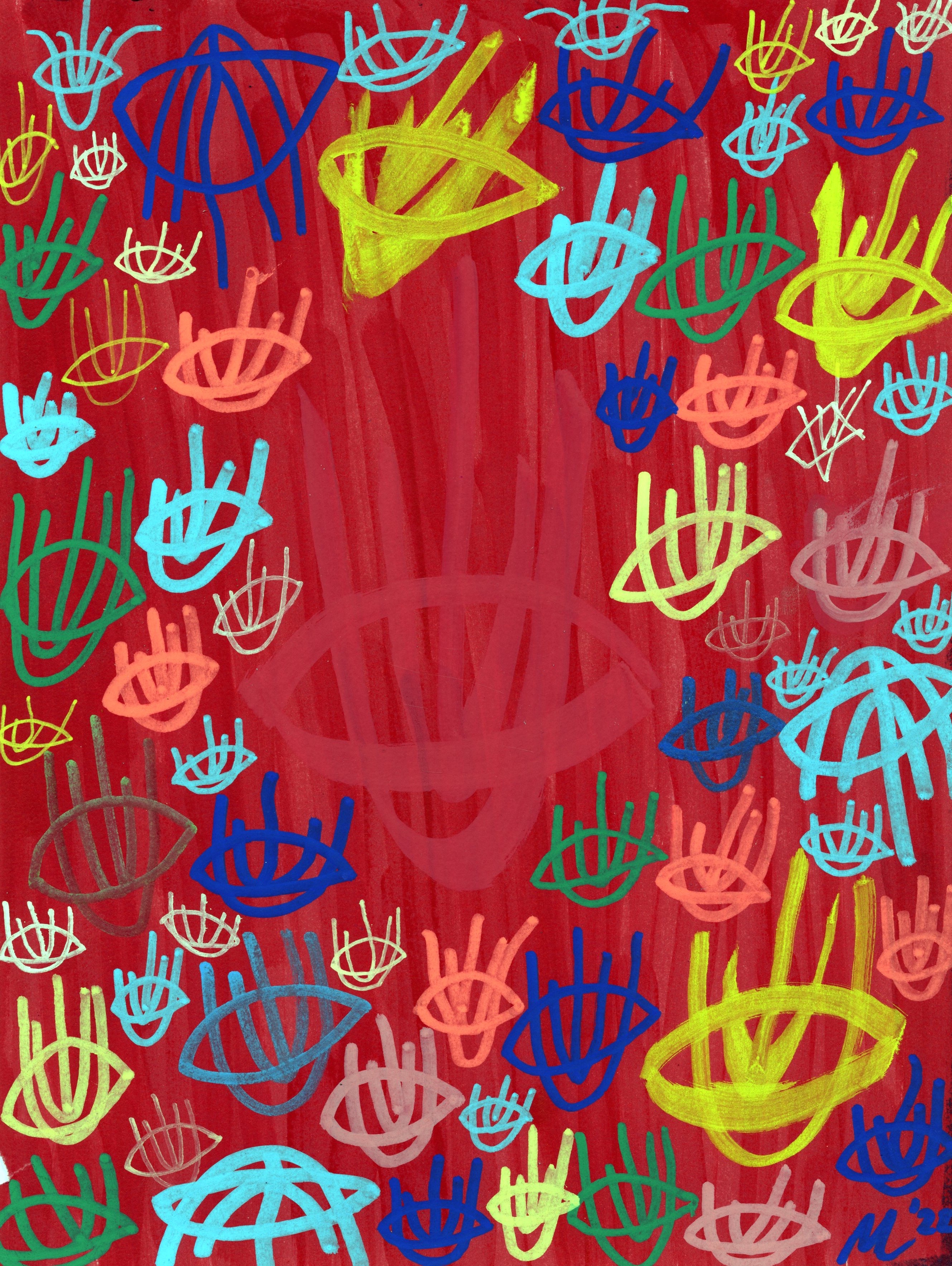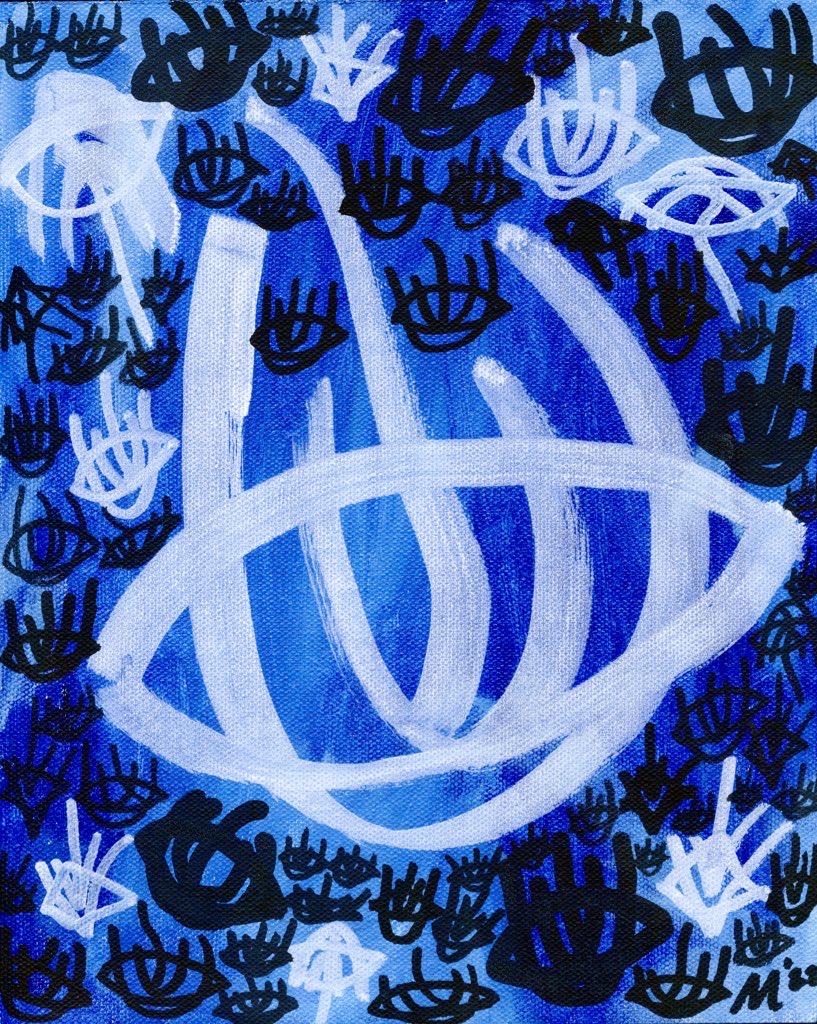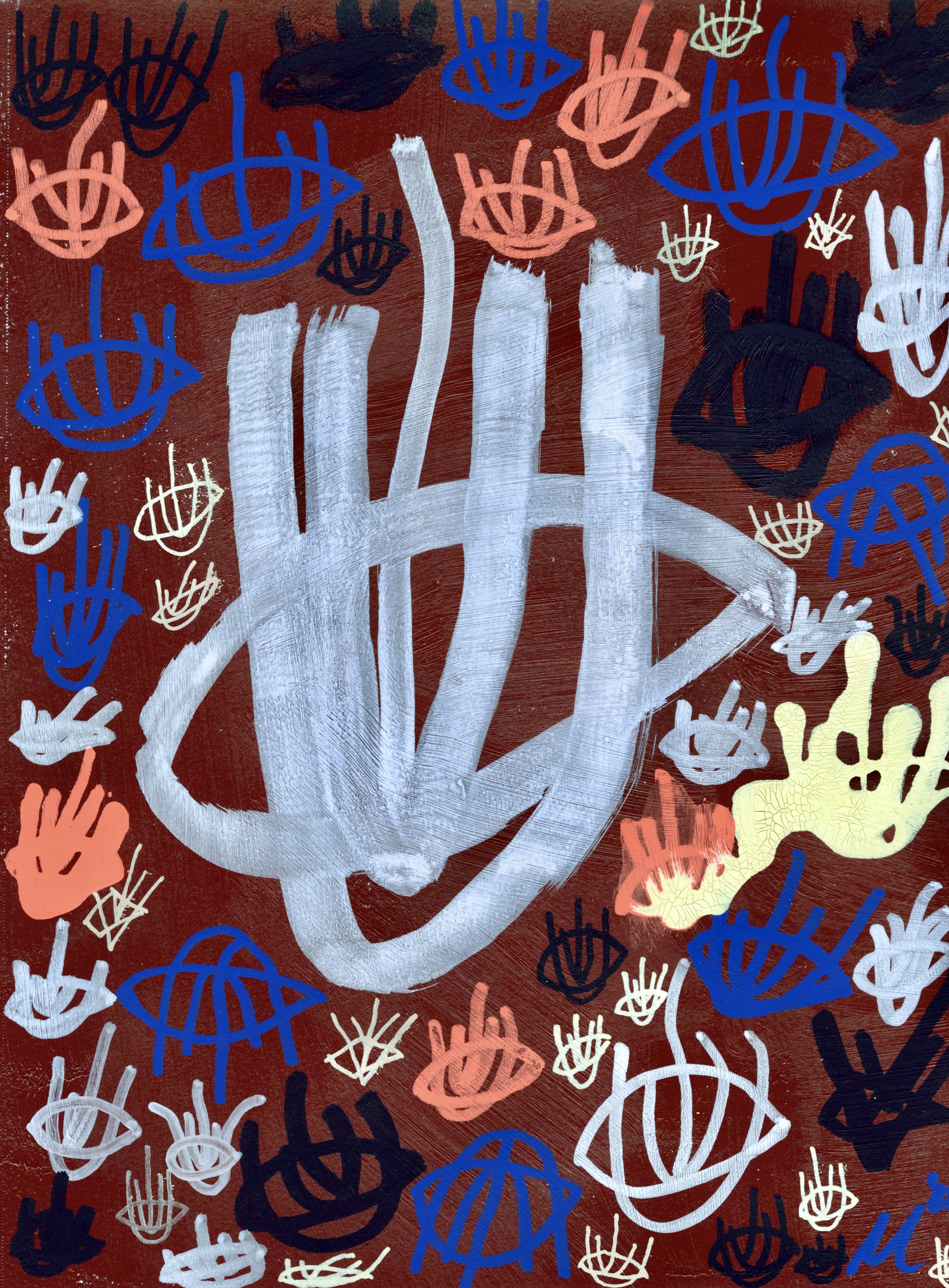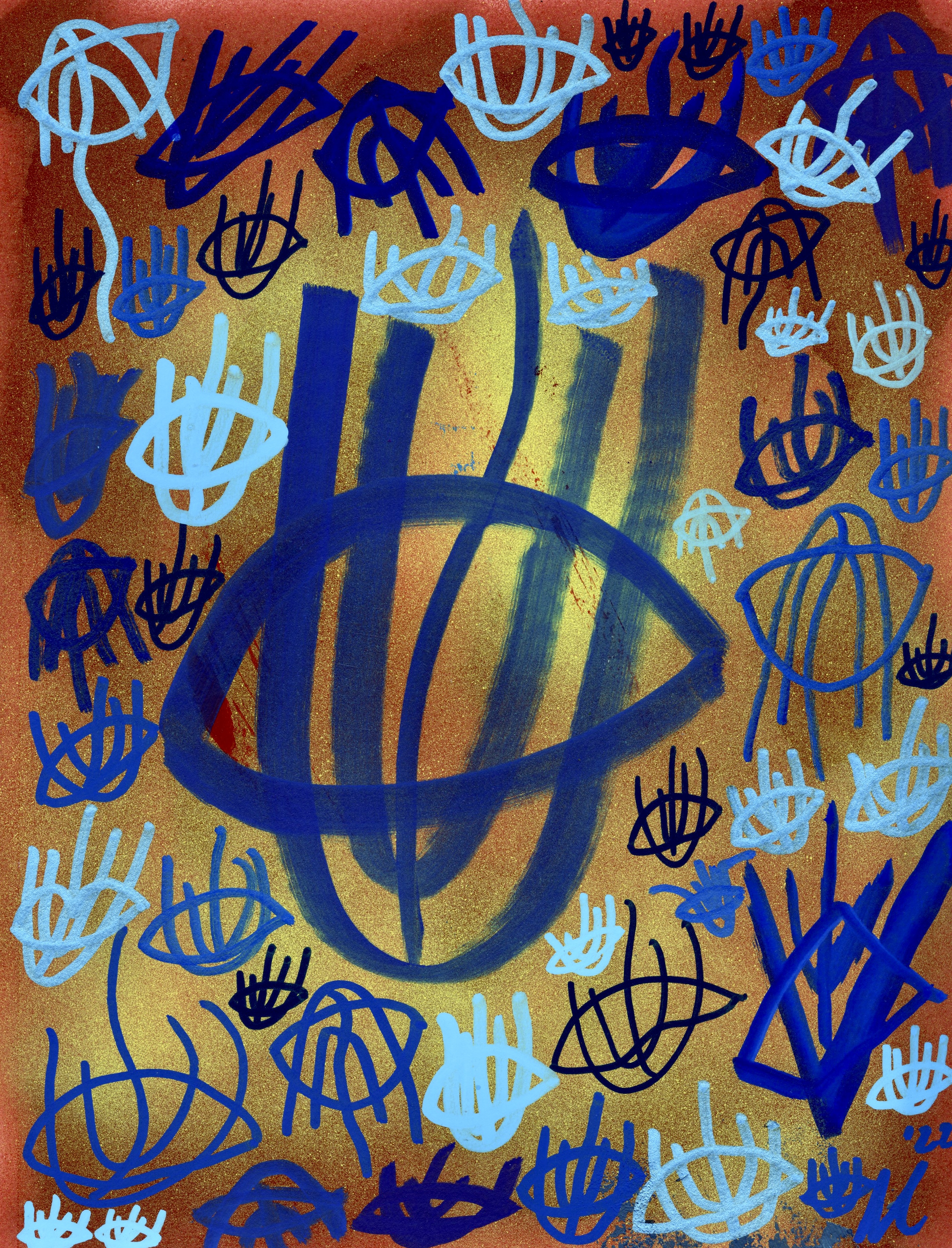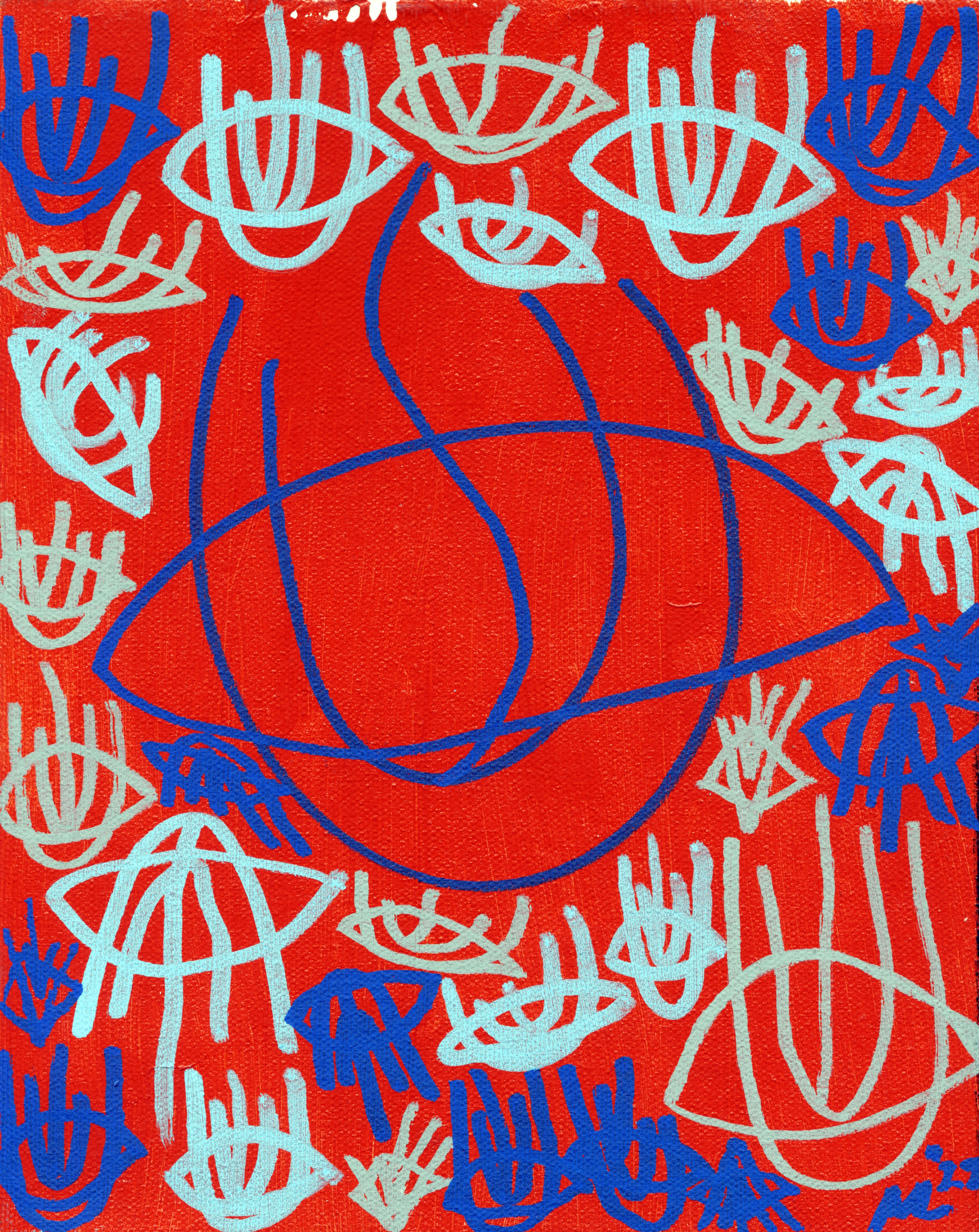 ---
Our Reality Is Blue (2022)
20x20" Painting
Acrylic & Paint Pens on Canvas
Third in the "Feedback Loops" series of physical paintings inspired by AI-created reference images.
The first in the series -- We're All Adults Here -- was directly inspired by an AI reference, while each subsequent reference was created by digitally collaging AI variations of the previous physical painting. Thus this painting was created through multiple variations of the previous painting in the series, "Pack Your Romantic Mind."
Acrylic, Art, Feedback Loops, For Sale, Paint Pen, Painting, Watcher